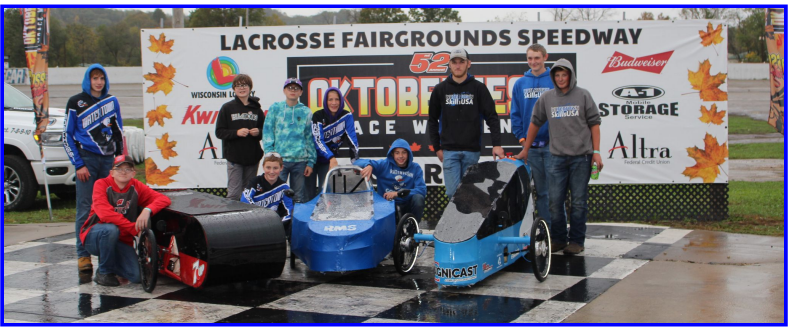 Watertown High School's Electrathon Team, Car 44, just crushed the previous state and Midwest records for Endurance at their recent Fall Event in West Salem, WI. 9 students from
Watertown High School and Riverside Middle Schools competed with their 3 cars against 25 other cars at the annual ChallengeUSA Fall Event held on the Lacrosse Fairgrounds Speedway, on Monday October 11th, 2021. Our local team had 2 Supermileage Cars and the Project 44 Electrathon car in competition for the day. Electrathon is a student competition across the nation for a car to travel as far as possible in one hour on a given weight of batteries in the vehicle. For Project44 as a Lithium car - our weight restriction was 16 pounds of battery cells.
The Watertown HS Project 44 car was first an idea in Spring of 2019. After a long season that
Spring, the team started brainstorming how to step up our competition - and it was decided to
build our first Lithium powered Electrathon Vehicle. We knew the speeds of this new car would
far exceed the average of 25-30 miles in an hour our past cars have performed at, so we spent
alot of time the first year researching technologies and planning for safety. We also knew this
would be a two-year build for the car. The goal of this vehicle was to break the mid-west speed
record of 43 miles in one hour, held by Iowa Central Community College in 2007, run at
Hawkeye Downs Speedway in Cedar Rapids Iowa. So we named this car Project 44 meaning it
would reach 44 miles in one hour.
In the first year (2019-2020 school year), the team did no building of the car and just researched batteries, motors, brakes, wheels, and did lots of calculations to ensure we had a plan on the most efficient vehicle design. The second year, 2020-21 school year, we started ordering all the supplies and began building the chassis from a full CAD Model of the car created the previous year. We chose Milwaukee Drill batteries to power the car (16 batteries in car). We chose GrinTechnologies All-Axle Hub Motor to drive the car, but mounted it as a Mid-Drive engine vs inside the wheel build. The student team worked closely with numerous companies and local engineers on systems of this car to be the best. Signicast Engineers out of Hartford, WI worked with our students to design and cast an aluminum foot pedal system for the brakes on the car. Fisher Barton Engineers of Watertown, WI worked with our students to design a new spindle system that would handle the forces needed, by hardening their steel machined axles. MoboEvo owner and technicians of Oconomowoc, WI worked with our students to find the best and strongest wheels for the car that could handle the cornering this car would withstand.

In the Spring of 2021, ChallengeUSA was able to still host one of their five normal races due to
COVID. Our team attended the Road America event with other schools in May. We came home
ecstatic that the 44 car broke the Track Record at Road America by 4 miles. The previous
record was 9 laps held by Lakeview Technology Academy in Pleasant Prairie, WI. Watertown
broke that record in 3 of our 4 heats that day and came home with 10 laps in our 4th heat which
was 40.5 miles traveled. Though this was amazing, we were only ½ mile behind the State
Record and still short of the Midwest record of 43 miles.
In the Fall of 2021, ChallengeUSA was again able to host the annual Fall Event at Lacrosse
Fairgrounds Speedway. Watertown attended as one of 25 cars in total at the event. The Project
44 car was ready for competition and the team was excited to see how it could perform on an
oval track with cool temperatures (as heat has been an issue for our motor in the past). The car
had two heats on the track and shattered the Midwest record in both runs. Heat 1 the car
reached 79 Laps on a ⅝ mile oval track reaching 49 miles traveled in one hour!!! Heat 2 the car
reached 77 laps making 48 miles traveled.
Shown below - Project 44 car from Watertown - Class 4 Lithium Powered.
Shown above - Watertown HS and Riverside MS teams showing off their cars during the
ChallengeUSA Fall Event at Lacrosse Fairgrounds Speedway in October, 2021. The RMS 570
blue Car (shown middle) got high of 474mpg in their Supermileage car at the event. The WHS
45 red car (shown left) got high of 415mpg in their Supermileage car at the event.