Watertown High School Media Center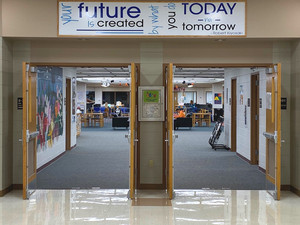 Click below to search the library catalog. Make sure you choose the link to Watertown High School. You can access the catalog anytime, anywhere. Once you've found a title stop by the Media Center to check it out!
Library Information
Hours:
Monday - Friday: 7:30am to 3:35pm
Mrs. Jamie Klubertanz - Library Media Specialist
Phone: (920) 262-7500 Ext. 6200
Email: klubertanzj@mywusd.org
Mrs. Jen Devers - Media Center Instructional Paraprofessional
Phone: (920) 262-7500 Ext. 6223
Email: deversj@mywusd.org
The Media Center has a collection of 22,000 books and over 2,000 audiovisual materials. Approximately 20 magazines, and three local news papers.
Books: 60 days
Magazines: 14 days